SAP Business One: Our Recipe for Success in the Food Industry
The medium-sized food industry is the chameleon of the process industry. In order to constantly deliver new variety to daily nutrition, business processes must continuously adapt. Is the product packaging attractive? Are the taste and smell appealing? Does it cater to nutrition trends and consumer habits? Furthermore, there are increasingly pressing environmental factors and current nutritional insights that must also be incorporated into recipe development, food production, and packaging design.
The challenge facing the industry is to constantly adapt to the needs of buyers and to map the necessary work steps and quality controls within a company. As the production of food increasingly focuses on ecologically sustainable products, the value chain is now taking center stage. SAP Business One complies with the respective country-specific fiscal regulations. It provides the necessary metrics and highly integrated business processes for a sustainable, international supply chain that meets all your economic and environmental standards – starting with the selection of natural raw materials right through to formulation, production, and an automated, monitored logistics process.
What Do Sustainable Supply Chains Look Like?
Eating changes are constantly evolving. And supply chains along with them. In this guide, you'll discover how to utilize technology like your ERP system to solve the pressing issue of sustainability in supply networks and make your ESG plans a reality.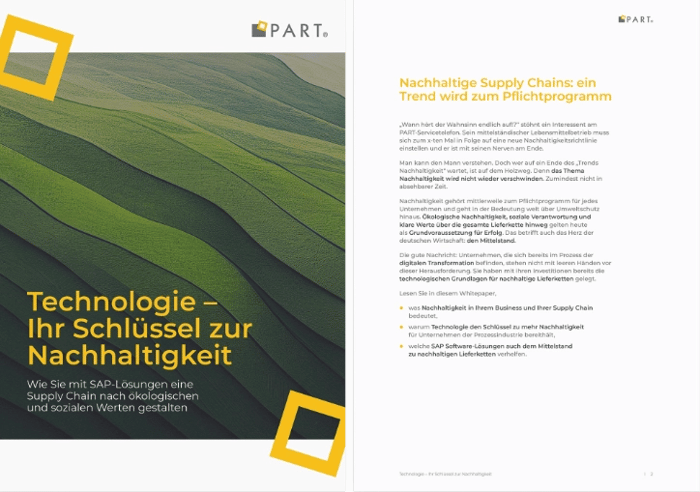 SAP Solutions for the Food Industry
ERP, CRM, and DMS for your future-proof food company: as lean as necessary, as digital as possible.
SAP Quality
As a SAP Gold Partner, PART delivers concentrated SAP expertise to the medium-sized food industry.